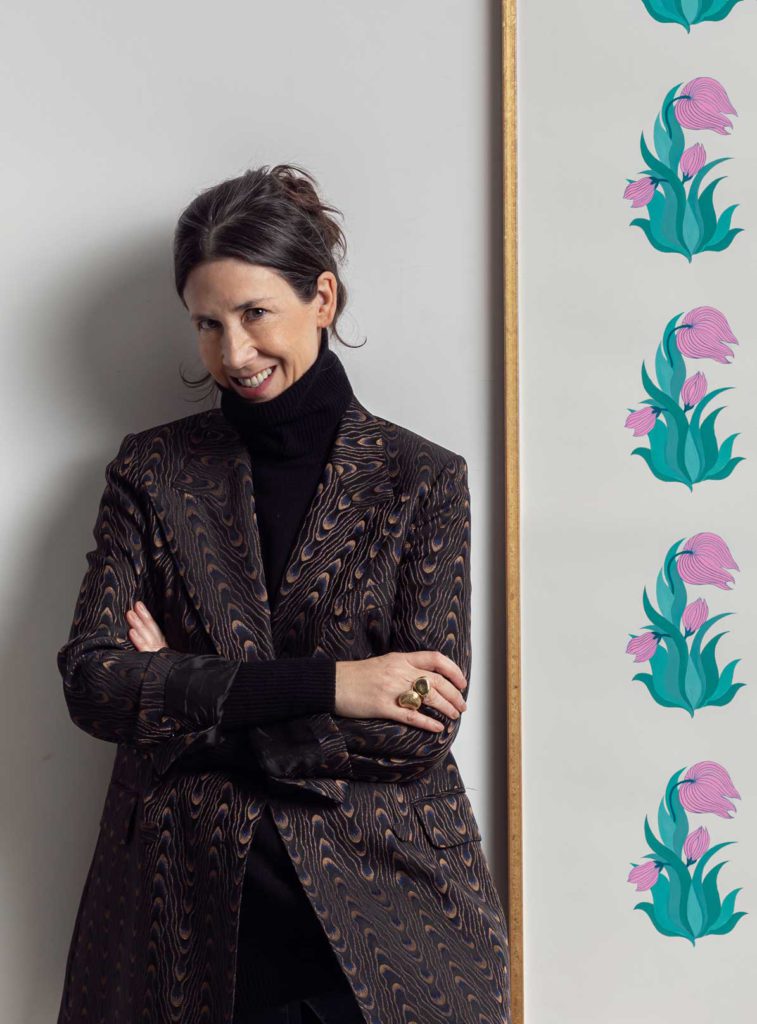 Neisha Crosland is a British surface pattern designer. She studied textiles at Camberwell School of Art (1982 -1984) where she developed her drawing style and love of print and dye processes, before attending the Royal College of Art (1984 -1986). Her career was launched at her highly applauded post-graduate show in 1986, where she was commissioned by Osborne & Little to design a collection, which included the ubiquitous Star wallpaper that became an instant bestseller.
She went on to work freelance, selling her designs to many international fashion and fabric houses such as Marc Jacobs and Christian Lacroix, as well as high street stores such as Laura Ashley, British Home Stores, and also Volvo cars, before starting her own textile label designing patterns for scarves in 1994.
Neisha Crosland has since gone on to design patterns for fabrics and wallpapers, fashion accessories, rugs, tiles, hand embroidery, fine china, vinyl flooring, and book covers for Virago re-issues, and one-off projects, such as with the Victoria & Albert Museum, Bill Amberg, and Reed Employment Agency.
Innovative pattern and production techniques have propelled her to the forefront of UK design, and she is widely recognised for her contributions to textiles and surface pattern – in 2006 she was honoured with a Royal Designer for Industry Distinction (RDI), and in 2017 she was awarded an Honorary Fellowship by the University of the Arts London. In 2016 she released a biographical account of working with pattern, 'Neisha Crosland: Life of a Pattern', published by Merrell.
Her work has been used by top decorators in fashionable restaurants, pubs, clubs, hotels and private homes around the world, and by Art directors for fashion campaigns and film sets. Her work is archived at the Victoria & Albert Museum and Geffrye Museum.
The designer's aesthetic manages to embrace a refined sense of purism with a love of decoration. Her designs are elegant and intelligent and have an impeccable sense of balance, proportion and personality. Her guiding principle is that 'decoration should have an emotional appeal' and that 'an idea is only good enough if it has a fresh point of view'.
"I suppose I am a bit like a biologist who collects specimens. I collect ideas and motifs and classify them into designs. I love the way nature organises itself. I take inspiration from the way a plant organises its leaves, petals and stamens. I love the way that colour dictates a mood, and how repeat conducts the rhythm in a pattern. I love relocating motifs and putting them into a new context. Flat pattern and how it is applied to three-dimensional form fascinates me."
Her influences have been varied and include the Russian Constructivist artists, the Ottoman Empire Textiles, Georgia O'Keefe, 18th Century brocaded 'bizarre' fabrics, Jacobean metal wriggle work, 16th Century Japanese Kimonos, 1920's geometric textile prints by Barron & Larcher, the nature photographs of Horst and the biologist Haeckel's illustrations of his observations of nature. Yet whilst many of her sources are historical, her vision is entirely contemporary.
Today Neisha is represented internationally by Schumacher, Chelsea Textiles, Christopher Farr, The Rug Company, Tim Page Carpets, Fired Earth, De Ferranti, Harvey Maria and Hankyu Department Stores Japan. She lives in South West London with her husband and two sons.